Here comes the day, the day we all waited hard for. Covid-19 made us skip 2029 and 20. So, New Year is waiting until midnight and celebrating 2023 with fresh resolutions and hopefully with a covid-19 vaccine in a much more joyful way. So while you are involved in the party, FaridabadCake is ready to offer you a tasty chance to step into the new year with delicious cakes in a wide array of designs, flavors, and shapes. 
This year, cling and commemorate all your new resolutions by eating a yummy New Year cake. Cakes are always the finest element of this Year's commemoration, isn't it? So, just order a delectable cake online for increasing your joy this new year. FaridabadCake offers you delicious cakes across Faridabad where you could enjoy your celebration to a big extent.
Do I need a cake for the new year's celebrations?
 New year celebrations truly call for the best deal of elegance. A new year is something that is celebrated in unique cultures and traditions which are indulged with a modern lifestyle where everyone loves to involve in this merrymaking day. As it is a day of fun, most people love to add more excitement and like to make this day more fun by spending so with their friends, and family.. where a pretty cake is the best choice which could easily bring you tons of smiles on everyone's faces. Which is why you need a cake?
But what about if you are staying away from your family or friends this year? Well, FaridabadCake has a special delivery to all of its consumers and delivers your cake to your loved one's door directly. By the way, no shipping fee.
Why Faridabadcake is the best option?
FaridabadCake is a leading and favorite online cake delivery service that makes you deliver your New Year greetings to your loved ones, family, and friends. Let's welcome this new happiness with the hassle-free delivery of New Year cakes to your loved ones. 
FaridabadCake endeavors to enhance your joy in this 2023 New Year celebration. If you trust FaridabadCake, you are all set to purchase cakes online and attempt this fresh beginning with a delicious and grand gesture.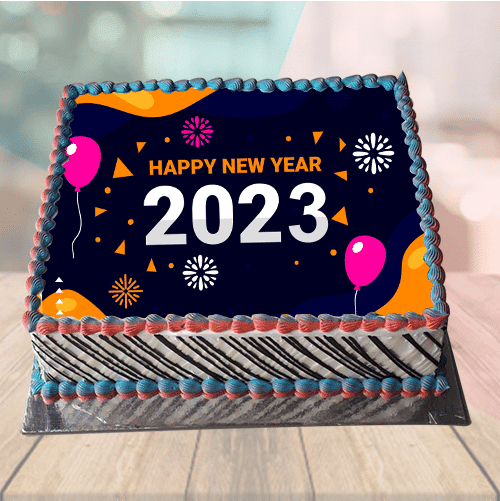 FaridabadCake's Special Collection of Happy New Year Cakes is all you need
If you are thinking of the best party, then you need to include a cake too with flowers for this new year. Cakes are always the most famous and flavored cakes for this year's New Year celebration. As the winter season started already, the countdown for the next year started and people wait for the best Year events. Where cake is always interesting in festive foods. 
People like to celebrate this news with sweet delight. So, you could order Faridabad Cake's special cake by exploring a wide range of varieties. Whether you are looking for a black forest cake or any flavor, you can buy any kind of cake. These cakes are perfectly baked by utilizing the best quality ingredients. They even follow perfect safety guidelines while baking and delivering the cake. So, you could order the cake without thinking about cake quality as they offer the finest quality of cakes. 
They even offer designer cakes, photo cakes, customized cakes, and more to make your celebration more unique. Same-day delivery service will make you get the cake at your doorstep on the day you ordered the cake. Midnight delivery service delivered your cake when the clocks hit 12 to surprise your people.
Order a delicious new year cake from Faridabadcake
 If you are looking for the best New Years' Eve cake, FaridabadCake is all you need. As the popular online cake delivery service across Faridabad, they provide a huge range of cakes. No matter how much your budget is, you can always find the buyable cake within your budget. Just order a tasty cake from FaridabadCake and have fun with your best ones.